About Us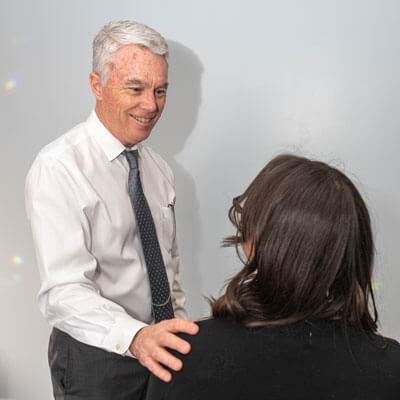 Dr. Peter Fisk has been in practice for several decades. He graduated from Life University West in Hayward, California in 1991. His life then took him to starting a practice in Perugia, Italy, where he remained for two years. He moved back to his native San Francisco in 1994, then spent some time in Fort Collins, Colorado.
When he began working on a project with a colleague Dr. Fisk and his family came to Santa Fe. During that spring of 2014, they realized that his son's sensitivities to his environment and diet lessened. Our community was a healthier place for their entire family, and they decided to open Integrative Chiropractic here.
Our Mission
We want to help you find and trust your body's innate intelligence. Innate intelligence is based on the belief that your body knows exactly what you need and can provide it. The idea is fundamental to chiropractic care. We seek to remove any interference that affects your innate intelligence.
The result of this removal is a greater connection and trust with yourself. We pay attention to the body's intelligence to develop a foundation on which we can base your abundant health and well-being.
Our Gentle Approach Is Appropriate for All
When you first meet us, you'll love the home-like feeling of our office. We're serious and scientific about what we do. We go about that, however, with joy and happiness. We want to gain your trust and help you find your way again. You might be in pain or unsure of what you need. We'll hear you out and tell you if we have the answer. If not, we'll send you to someone that we think can assist you.
If you're nervous about chiropractic, we understand that you may have heard common myths or had a negative experience in the past. Dr. Fisk holds the highest certification in Network Spinal Analysis and had been an instructor in the technique for more than two decades. With our methods, there is no cracking or twisting. Our gentle, non-force method takes a corrective approach to sustain your well-being.
MEET DR. FISK »
You Keep Us Motivated
Each day, we wake up and look forward to going to work. Being a part of changing people's lives is an incredible privilege. One of Dr. Fisk's practice members was a woman with intense shoulder pain.
She was in an unhealthy relationship and experienced a reinjury after her condition had started to improve. Her son would accompany her to our office. One time, he jumped into Dr. Fisk's arms and wouldn't let go. His mother started crying, as her son was normally not trusting. Eventually, the mom and her son moved away.
Years later, Dr. Fisk attended a recital of one of our practice members at a local church. The harpist was none other than the mother he'd seen for care. Her experience led her to attend chiropractic college so she could help others, and her son is all grown up.
Learn More Today
If you'd like to discuss your case with Dr. Fisk, we provide free consultations. Contact our chiropractic office now to get started!
---
About Integrative Chiropractic | (505) 954-1024